The Elements of a Coffee Bar
•
Posted on September 29 2022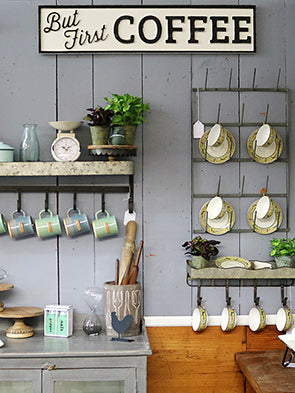 Imagine having a coffee bar for your own kitchen. It's perfect for both making your guests feel at home, and keeping your coffee necessities organized. And it needn't just be for coffee either!  You can create any beverage station such as tea bar, a juice/smoothie bar, a margarita bar, or even a hot cocoa bar!
The Cabinet or Table
No matter what style you're going for, every coffee bar starts with a great serving space. Options include repurposing an old industrial table with open storage, or the more traditional painted glass china cabinet to display pretty accessories.

 If you're the type that prefers everything tucked away and not seen, then a solid cabinet would be perfect. Whatever space you have to work with, there are a variety of ways to create a stylish and functional coffee bar available at Revived.
Shelves
Go vertical by adding shelves to your coffee bar space. Open bracketed shelves are practical for an out-of-the-way decorative statement.
Galvanized shelves with hooks are perfect for hanging mugs and keeping plates in close reach. Use them to store your sugar canisters, coffee beans, flavor syrups, towels, spoons, or to show off the decor that makes your coffee bar unique.

Functional Items
Vintage look candy jars and containers keep things fresh with airtight storage that adds personal style to your coffee bar.
Canisters are great for storing coffee and sugar and a caddy is perfect for storing K-Cups or tea bags so you get the most out of your space. A large tray to keep your coffee maker on, along with some tiered trays to display pastries and muffins for your guests would be beautiful and functional additions as well.

The Icing


Once you have all the necessities that make your coffee bar function, it's time to have fun adding your own personal style and touches.
Consider decorative items like heirlooms, our antique scales, pretty faux flowers, potted herbs, colorful mugs you've collected, a chalkboard to create fun messages to your family and friends, and last but not least, one of our fun Made at Revived signs like our But First Coffee sign made here in store with reclaimed wood.
This is where you get to really show your personality, and these are the things that make a house feel like a home.


Visit our store in Derry, New Hampshire to see our coffee bar in person, and prepare to be inspired by our displays and thousands of items to look at!  You can also find many of these items in our online store.  Use coupon code COFFEEBAR at checkout to save 10% on featured items! The code is only valid until midnight, June 19th, so don't delay!