How to Decorate a Mantel
•
Posted on February 02 2023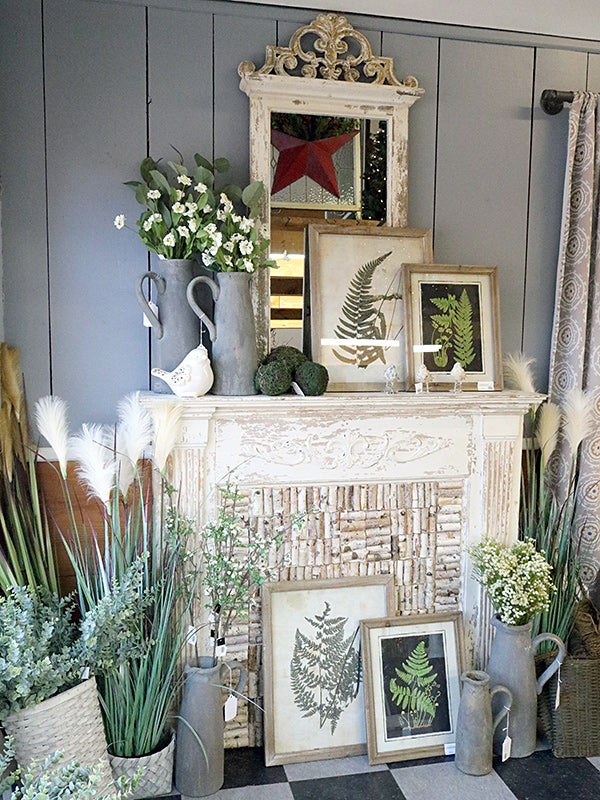 One of the questions I am most often asked by customers is "can you help me doctorate my mantel?" It looks like it would be so easy to decorate, but many people struggle with it because it's the focal point of the room and they just want to get it right!


So, let's make decorating a mantel easy! Here are 7 easy tips I use when decorating a mantel.


1. Decide on a focal point or anchor piece.
An anchor piece is a large object such as a large clock, a mirror, or a wreath that functions as the main point of visual interest. It's the best place to start and sets the style for the rest of the decorative pieces you choose. In our example, the anchor piece is the mirror.


2. Decide if you prefer symmetry or asymmetry.
Symmetry is when the items used are the same on both sides and are balanced. Each side, left and right, is a mirror image of the other. Asymmetry is when the items used on each side are not the same, though they are still balanced. Even though the items used are different, they still have a similar visual weight on each side.


3. Vary heights.
Varying height creates visual interest and helps move your eye from one surface to another across your mantel. Candlesticks, stacked books, or vases with flowers can be used to create different heights throughout your mantel.



4. Create depth.
Layer all items to create depth. Starting with your anchor layer in the back moving towards the front edge of the mantel, place vases, candlesticks, family pictures, etc. in front of each other instead of in a straight line against the back wall.


5. 

Use the rule of three or odds.
This rule is the golden rule for decorators and designers. Place your items in groups of three on each side of the anchor piece as we did here with varying heights, creating a triangle effect.


6. Add real or faux greenery
Adding greenery is a great way to put a little life in your mantel. Be it flowers, greenery, or both I try to use the same kind of floral throughout the mantel but add them to vases of different heights.


7. Keep with the same color pallet and style with the rest of the room.
While you may want the mantel to be the focal point of the room, you still want it to match with everything else. Take extra care to choose a consistent color palette and stay with the same style as the rest of the room. Add pops of color with seasonal real or faux floral.


I also always like to add a touch of whimsy to everything I decorate. In our examples, we added our chubby birds, but use whatever makes you smile or even giggle a little every time you look at it, even if it may not go with the other elements of the room.

Following these simple steps will not only make decorating your mantel easier but will also help make deciding what items to use in your decorating easy as well. Here at Revived, we have thousands of fun and interesting items to choose from, so you can really let your personality shine in your home.
Do you have a mantel you're proud of? Post a picture and tag us on
Facebook
, we'd love to see it!